"As a childhood cancer survivor, Lauren Bateman knows the importance of living in the moment."
That is why at the age of 27, Lauren quit her 'cushy' job as a research scientist to pursue a career in music.
Boy has that decision changed her life forever.
You see, Lauren started out much like you.
She wanted to learn to play guitar, but, because she wasted her piano lessons as a kid, her parents weren't going to shell out money to get her guitar lessons.
In fact, when Lauren was 16, her very own mother told her sister not to buy Lauren a guitar because she would waste it.
Instead, Lauren decided she was going to teach herself how to play guitar on her own. But back in the day, there was no YouTube and there weren't cool websites like this to teach you how to play guitar. Lauren had a VHS (yeah, she's dating herself) and a Hal Leonard Book. She started with tedious site reading that made her quit piano many years before. Fortunately, she quickly learned that there was a better way to go about learning songs and having fun on the guitar.
Once that happened, the rest was history.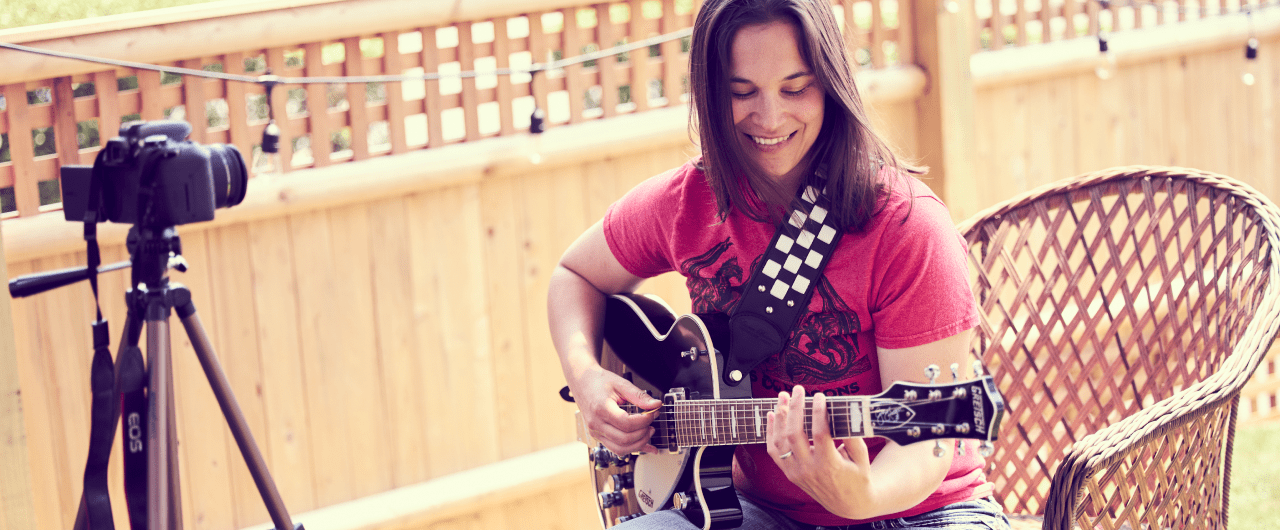 Unlike the majority of the guitar teachers out there, Lauren doesn't have a degree in music (it's actually in Biology and Archaeology). What she does have is a passion for music and for helping others have fun with music. That's why her approach is a little non-traditional. She gets to the root of having fun with guitar as quickly as possible because that's all she wanted to do growing up – have fun. That means no confusing music theory or weird guitar mumbo jumbo. Just exactly what you need to know at your playing level to make the guitar accessible.
Even with zero experience as a teacher back in 2010, her popularity grew locally due to her simple and effective approach that finally made the guitar make sense.
She understands how much joy and happiness music can bring into the lives of others. The first time you play a song you know or that first time your husband or wife actually recognizes what you are playing. Lauren wants to help you discover the music that's inside of you and help you bring that to life on your guitar. Her goal is to make sure that everyone has access to quality guitar instruction that organized in a step-by-step method. You don't have to leave this world with the music still inside you.
Start Lauren's Free Online Guitar Crash Course
Life is full of possibilities.
Are you ready to achieve your dream of playing the guitar?